Hinckley Yachts Kadey-Krogen 42 Kadey-Krogen 58 Viking Bertram 42 SF Buddy Davis 47SF Cabo 40XP SF Fighting Chairs by Kyle Miniatures
Special projects Boating Links of Interest Finished models for sale Contact Information

With radio control option
CAPTAIN'S MODELS

Fleming 55® Motor yacht

Photos taken on beautiful Middlefield Estates golf course

Cottage Grove, Oregon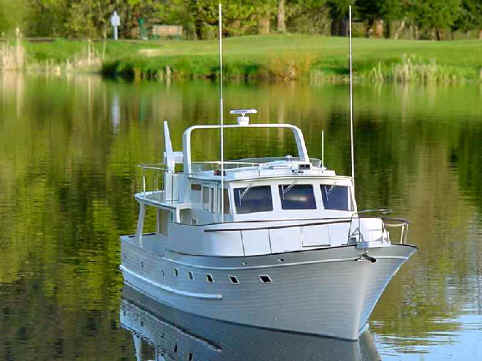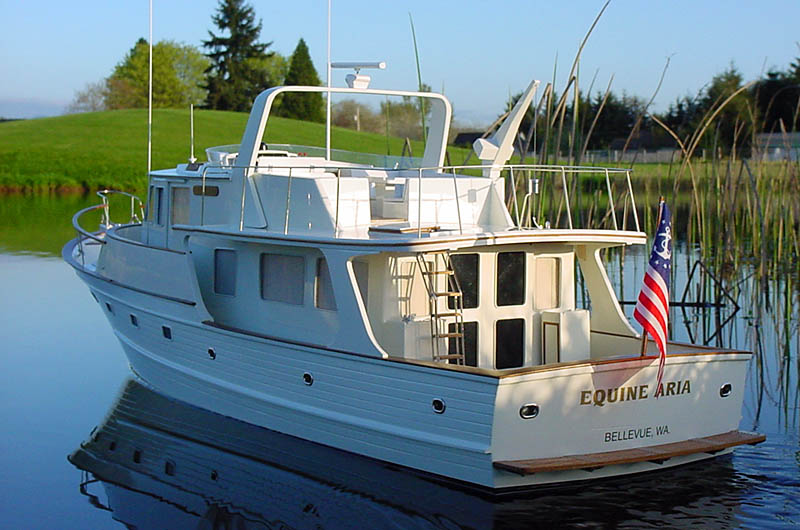 [click on the smaller pictures for a larger view]
The Fleming 55® Motor Yacht

An elegant touch to any den or board room.
Your model may be ordered as a display model only, or with radio control, lighting and other options, including a bow thruster.
Radio controlled model shown with finished hull interior, featuring a carpeted transmitter compartment, removable rubber matting in engine room, battery compartment, and separate radio & electronics bay. Controls are located for easy access below cockpit deck.
Dimensions:

L.O.A: 48" with bow pulpit and swim-step

Beam: 12-1/4"

Height overall: 14"
Model boats "worth waiting for !"...
For further information

For further information, pricing & shipping contact

Jeff Kyle at Captain's Models

1-541-913-4723

P. O. Box 519

Cottage Grove, Oregon 97424

email: Jeff Kyle
GRAND BANKS is the registered trademark by Grand Banks Yachts Ltd.
FLEMING YACHTS is the registered trademark of FLEMING YACHTS
HATTERAS is a registered trademark, HATTERAS YACHT CORP.
KROGEN is the registered trademark by Kadey-Krogen Yachts

VIKING is the registered trademark by Viking Yachts

HINCKLEY YACHTS is the registered trademark of The Hinckley Co.

Models are shipped FOB Cottage Grove, Oregon.

Captain's Models reserves the right to change specifications and prices without notice.

Send mailto:ckyle@captainsmodels.com with questions or comments about this web site.

Copyright © 1997-2009 Captain's Models. All rights reserved. Names, logos, designs, titles, words, photographs or phrases on these pages may constitute trademarks, service-marks, or trade names of Captain's Models or other entities which may be registered in certain jurisdictions.

Date page last edited: 04/02/2010