Hinckley Yachts Kadey-Krogen 42 Kadey-Krogen 58 Viking Bertram 42 SF Buddy Davis 47SF Cabo 40XP SF Fighting Chairs by Kyle Miniatures
Special projects Boating Links of Interest Finished models for sale Contact Information

GRAND BANKS 42 EUROPA®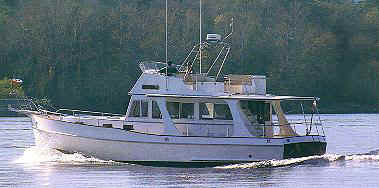 Full size Grand Banks 42 Europa.
Waterfront property...
"with a view"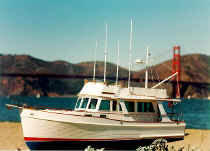 The graceful lines of the Grand Banks® 42 Europa are well proportioned with trim roof lines extending over the side decks and extending well aft to offer a protected, spacious cockpit area. Be sure to see the Grand Banks web site listed on our "links" page.
Now...Captain's Models presents
1/16 Scale model boat of the Grand Banks® 42 Europa
For a close-up examination of our work, click on the photos below for a larger view.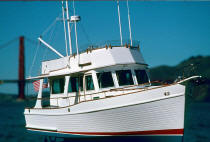 These models boats represent many hours of planning, preparation and construction. All teak is hand cut, and fit to each yacht model...Like all of our models, she is hand lay-up fiberglass from the keel to the bridge.
Captain's Models are loaded with details, hand made metal parts, and finished like a mirror. Your choice of SUNBRELLA FABRIC ® colors on the bridge, as well as bottom paint and boot stripe colors. Your model includes her "Name " & "port of call " in gold lettering on teak.....and her anchor drops smoothly at the slightest touch !
Happy owners around the world "Love their Grand Banks ® models"
For further information

For further information, pricing & shipping contact

Jeff Kyle at Captain's Models

1-541-913-4723

P. O. Box 519

Cottage Grove, Oregon 97424

email: Jeff Kyle
GRAND BANKS is the registered trademark by Grand Banks Yachts Ltd.
FLEMING YACHTS is the registered trademark of FLEMING YACHTS
HATTERAS is a registered trademark, HATTERAS YACHT CORP.
KROGEN is the registered trademark by Kadey-Krogen Yachts

VIKING is the registered trademark by Viking Yachts

HINCKLEY YACHTS is the registered trademark of The Hinckley Co.

Models are shipped FOB Cottage Grove, Oregon.

Captain's Models reserves the right to change specifications and prices without notice.

Send mailto:ckyle@captainsmodels.com with questions or comments about this web site.

Copyright © 1997-2009 Captain's Models. All rights reserved. Names, logos, designs, titles, words, photographs or phrases on these pages may constitute trademarks, service-marks, or trade names of Captain's Models or other entities which may be registered in certain jurisdictions.

Date page last edited: 04/02/2010