Special projects Boating Links of Interest Finished Models for sale Contact Information

Salon Express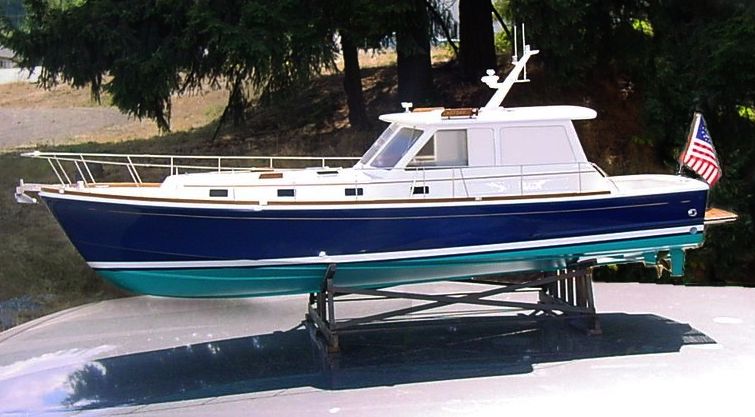 The successful partnership of Grand Banks Yachts and the legendary C. Raymond Hunt modified deep V-hull design, guarantees a proven balance of quality construction, incredibly smooth ride and outstanding performance.

A typical configuration consists of a down galley, two staterooms, a spacious office/laundry and two heads. The excellent helm area provides great visibility, ample seating and a navigation/dining counter with open space above the down galley. The sumptuous enclosed salon, unprecedented in an express style boat, gives a 360 degree view of the cruising scenery while protecting guests from the elements. It is the perfect comfortable and cozy entertainment/living area with ample, built in storage.

The Eastbay SX exemplifies Grand Banks heritage with beautiful hand-crafted teak workmanship above and below decks.

With CAT 3406E 800 HP Engines, cruising speeds up to 27 knots and topping out at 30.

For further information on the full-size yacht, Grand Banks Yachts, Ltd.

Captain's Models proudly presents hand-built fiberglass scale models of this fine new yacht. It may be ordered as a display model or fully operational with twin electric drive, navigation lights, and radio control.
Overall length of model with pulpit and swim deck: 44-1/2"
Beam: 12"
Height over mast: Approximately 16"

For further information

For further information, pricing & shipping contact

Jeff Kyle at Captain's Models

1-541-913-4723

P. O. Box 519

Cottage Grove, Oregon 97424

email: Jeff Kyle
GRAND BANKS is the registered trademark by Grand Banks Yachts Ltd.
FLEMING YACHTS is the registered trademark of FLEMING YACHTS
HATTERAS is a registered trademark, HATTERAS YACHT CORP.
KROGEN is the registered trademark by Kadey-Krogen Yachts

VIKING is the registered trademark by Viking Yachts

HINCKLEY YACHTS is the registered trademark of The Hinckley Co.

Models are shipped FOB Cottage Grove, Oregon.

Captain's Models reserves the right to change specifications and prices without notice.

Send mailto:ckyle@captainsmodels.com with questions or comments about this web site.

Copyright © 1997-2009 Captain's Models. All rights reserved. Names, logos, designs, titles, words, photographs or phrases on these pages may constitute trademarks, service-marks, or trade names of Captain's Models or other entities which may be registered in certain jurisdictions.

Date page last edited: 04/02/2010