Special projects Boating Links of Interest Finished Models for sale Contact Information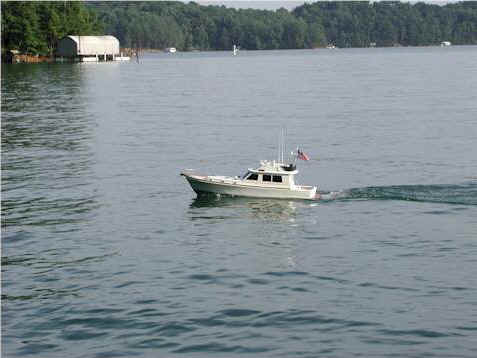 Launched in 2003, the Grand Banks 58 Eastbay FB is the newest entry in the Grand Banks legacy, and the largest in the Eastbay Fleet.
As one admires the profile of the58 Eastbay FB, an elegant and functional design element immediately catches the eye. The commanding lanai deck leads to a generous, integrated spiral stairway, curving gently from the cockpit up to the spacious flybridge.
Upon entering the main salon, it is here that Grand Banks luxury and practicality are most evident. Interior design concepts by noted marine and aircraft designer Patrick Knowles, have resulted in an interior of great elegance and comfort. For more information about the full-size yacht, see Grand Banks Yachts, Ltd.
...Now the model
An exceptional entry into the world of scale model boating, the all fiberglass, hand-built models of the GB 58 Eastbay FB are indeed exciting! Whether your model is display only, or a fully operational model with radio control, you will own a rare work of art!
The sheer size of the model, over 48" in length, will command attention in any room. At the water her elegant lines and top performance will please the most discriminate crowd. A model you will be proud to say, "she's mine!"
click on photos for larger view
If ordered with radio control, several options are available, including individual throttle controls, and lighting.

For further information

For further information, pricing & shipping contact

Jeff Kyle at Captain's Models

1-541-913-4723

P. O. Box 519

Cottage Grove, Oregon 97424

email: Jeff Kyle
GRAND BANKS is the registered trademark by Grand Banks Yachts Ltd.
FLEMING YACHTS is the registered trademark of FLEMING YACHTS
HATTERAS is a registered trademark, HATTERAS YACHT CORP.
KROGEN is the registered trademark by Kadey-Krogen Yachts

VIKING is the registered trademark by Viking Yachts

HINCKLEY YACHTS is the registered trademark of The Hinckley Co.

Models are shipped FOB Cottage Grove, Oregon.

Captain's Models reserves the right to change specifications and prices without notice.

Send mailto:ckyle@captainsmodels.com with questions or comments about this web site.

Copyright © 1997-2009 Captain's Models. All rights reserved. Names, logos, designs, titles, words, photographs or phrases on these pages may constitute trademarks, service-marks, or trade names of Captain's Models or other entities which may be registered in certain jurisdictions.

Date page last edited: 04/02/2010