Hinckley Yachts Kadey-Krogen 42 Kadey-Krogen 58 Viking Bertram 42 SF Buddy Davis 47SF Cabo 40XP SF Fighting Chairs by Kyle Miniatures
Special projects Boating Links of Interest Finished models for sale Contact Information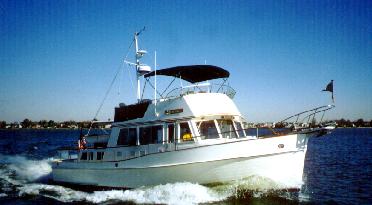 Full size Grand Banks 42 Classic
The Grand Banks® 42 Classic Yacht is a legend in its own time.
For over three decades, the most popular yacht in the Grand Banks® legacy. Now showing at better marinas around the world.
CAPTAIN'S MODELS builds finished fiberglass scale models of these beautifully hand-crafted, diesel powered yachts through an exclusive worldwide limited license granted by Grand Banks Yachts, Ltd.® and GRAND BANKS YACHTS®
Imagine having one in your home, office, or even... the swimming pool!
Realistic...

All hand lay-up fiberglass

May be ordered with radio contol !

GB 42 Classic model is 38-1/2" in length

MADE IN COTTAGE GROVE, OREGON USA
Each model yacht is built from "the keel up", just like the real yacht!
Over 400 individual parts, and components are used in each model.
These are completely finished models, not kits.
WE do all the work...YOU have all the fun & enjoyment!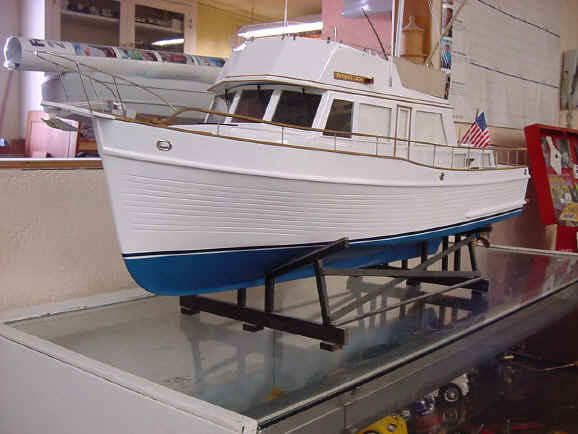 Below with traditional teak railing & carved teak scroll.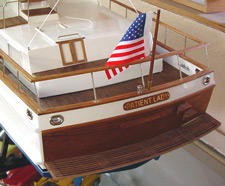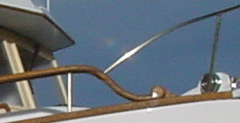 Teak transom and swim platform is standard
CAPTAIN'S MODELS puts American pride of workmanship into these little yachts, combined with the finest quality materials.
For further information

For further information, pricing & shipping contact

Jeff Kyle at Captain's Models

1-541-913-4723

P. O. Box 519

Cottage Grove, Oregon 97424

email: Jeff Kyle
GRAND BANKS is the registered trademark by Grand Banks Yachts Ltd.
FLEMING YACHTS is the registered trademark of FLEMING YACHTS
HATTERAS is a registered trademark, HATTERAS YACHT CORP.
KROGEN is the registered trademark by Kadey-Krogen Yachts

VIKING is the registered trademark by Viking Yachts

HINCKLEY YACHTS is the registered trademark of The Hinckley Co.

Models are shipped FOB Cottage Grove, Oregon.

Captain's Models reserves the right to change specifications and prices without notice.

Send mailto:ckyle@captainsmodels.com with questions or comments about this web site.

Copyright © 1997-2009 Captain's Models. All rights reserved. Names, logos, designs, titles, words, photographs or phrases on these pages may constitute trademarks, service-marks, or trade names of Captain's Models or other entities which may be registered in certain jurisdictions.

Date page last edited: 04/02/2010