Special projects Boating Links of Interest Finished Models for sale Contact Information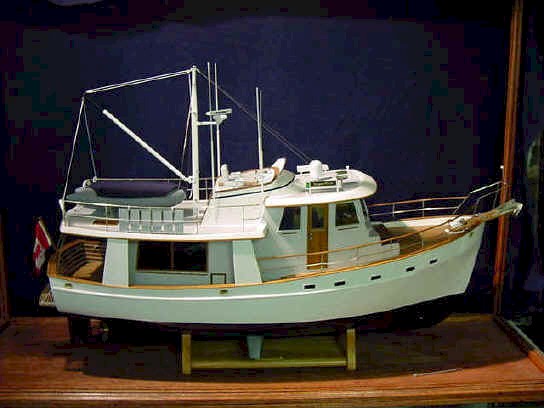 There's no mistaking the rugged heritage of the Krogen 42' Trawler. Her forerunners were hardworking shrimp boats built to respect the sea.
While her profile is far more refined and her quarter the height of comfort, the Krogen 42' Trawler is as salty and seagoing safe as those sister ships of yore. The rounded transom of full-keeled displacement hull rises out of the water for minimum drag, maximum efficiency. At 8 knots, her range is close to 2,000 nautical miles.
Scale models as seen in these photos, may be ordered as a display model or fully operational with radio control and lighting.

For further information

For further information, pricing & shipping contact

Jeff Kyle at Captain's Models

1-541-913-4723

P. O. Box 519

Cottage Grove, Oregon 97424

email: Jeff Kyle
GRAND BANKS is the registered trademark by Grand Banks Yachts Ltd.
FLEMING YACHTS is the registered trademark of FLEMING YACHTS
HATTERAS is a registered trademark, HATTERAS YACHT CORP.
KROGEN is the registered trademark by Kadey-Krogen Yachts

VIKING is the registered trademark by Viking Yachts

HINCKLEY YACHTS is the registered trademark of The Hinckley Co.

Models are shipped FOB Cottage Grove, Oregon.

Captain's Models reserves the right to change specifications and prices without notice.

Send mailto:ckyle@captainsmodels.com with questions or comments about this web site.

Copyright © 1997-2009 Captain's Models. All rights reserved. Names, logos, designs, titles, words, photographs or phrases on these pages may constitute trademarks, service-marks, or trade names of Captain's Models or other entities which may be registered in certain jurisdictions.

Date page last edited: 04/02/2010