Special projects Boating Links of Interest Finished Models for sale Contact Information

The largest of the Kadey-Krogen fleet of long range trawlers.
A scale model was featured at 1999 Miami International Boat Show, and the United States Power Boat Show at Annapolis, 2000. The model is now permanently "moored" at the new corporate offices of Kadey-Krogen in Stuart, Florida.
See our link to Kadey-Krogen Yachts regarding information on the full-size yacht.
The scale model yacht is all fiberglass construction, built to a scale of 1/16. (3/4"=1'.0"), with an over all length of 51 inches. This beautiful model boat features many hand made fittings, davit, and reclining mast. Recessed, overhead lighting along the companion way and cockpit, plus all navigation lights.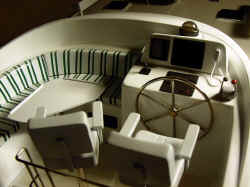 For the discriminating collector, this model boat is a true flagship in our fleet of fine-scale, fiberglass models.

As an option, you may have one that is fully operational, complete with 4 or 7 channel radio control. A 12v. motor with a 3:1 reduction drive line. Working bow thruster, and lighting make this a fantastic model to own and operate. Be sure to take a close look at the photos!
With regards to the fine line of Kadey-Krogen Yachts and their owners, this is no ordinary model. She is built in Captain's Models tradition of high standards.

For further information

For further information, pricing & shipping contact

Jeff Kyle at Captain's Models

1-541-913-4723

P. O. Box 519

Cottage Grove, Oregon 97424

email: Jeff Kyle
GRAND BANKS is the registered trademark by Grand Banks Yachts Ltd.
FLEMING YACHTS is the registered trademark of FLEMING YACHTS
HATTERAS is a registered trademark, HATTERAS YACHT CORP.
KROGEN is the registered trademark by Kadey-Krogen Yachts

VIKING is the registered trademark by Viking Yachts

HINCKLEY YACHTS is the registered trademark of The Hinckley Co.

Models are shipped FOB Cottage Grove, Oregon.

Captain's Models reserves the right to change specifications and prices without notice.

Send mailto:ckyle@captainsmodels.com with questions or comments about this web site.

Copyright © 1997-2009 Captain's Models. All rights reserved. Names, logos, designs, titles, words, photographs or phrases on these pages may constitute trademarks, service-marks, or trade names of Captain's Models or other entities which may be registered in certain jurisdictions.

Date page last edited: 04/02/2010